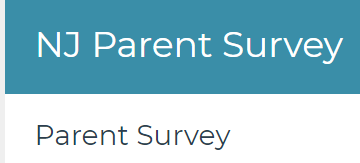 NJ Child Care Subsidy Program – Parent Survey
The New Jersey Department of Human Services/Division of Family Development (DHS/DFD) is seeking feedback from families regarding child care concerns related to the effects of COVID-19. Thank you for taking the time to participate, your responses are very important and will help provide useful information that will assist DHS/DFD in our work to best support families participating in the NJ Child Care Subsidy Program.   Participation in this survey is voluntary and your answers are anonymous. Responses should be submitted by no later than Friday, June 12, 2020.
If you have any questions or concerns about this survey please email DHS/DFD, Office of Child Care at DFD.ChildCare@dhs.nj.gov .
https://www.surveygizmo.com/s3/5622526/NJ-Parent-Survey