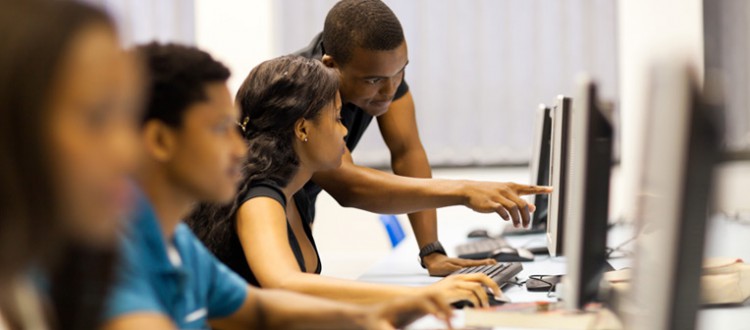 Employment Assistance Center
The Center offers comprehensive job placement assistance to walk-in clients, seniors, and welfare recipients. Job Developers assist clients with obtaining job training, developing resumes, preparing for interviews, job readiness and locating suitable employment opportunities. The Center provides easy access for employers seeking trained, motivated employees from any of our Employment and Training programs. Employment Center staff also assists employers with identifying qualified employees and securing the tax-breaks available to employers hiring clients who meet certain conditions.
AWEP/GED
The Adult Basic Education program for Alternative Work Experience Participants (AWEP/GED) provides people who have been out of school for an extended period, or never completed their high school education, a chance to acquire their high school diploma and/or sharpen basic skills. Instruction in math, reading, writing, and communications help participants do better in the job market or in advanced training classes.
The use of computers makes the class interesting and enjoyable for participants; and provides them an opportunity to really learn basic computer skills. Practice drills emphasize real life situations at work, school and home. In addition, Urban League staff are available to support participants in identifying other services that may help them succeed. in the workplace.
Learning Link
This unique and innovative program merges high-tech, computer based, self-paced learning with instruction by ULOHC staff. The program curriculum teaches participants how to improve their basic computer knowledge and skills essential to functioning in a workplace environment. Participants are introduced to the internet through NJN's Workforce Learning Link Literacy Program administered in collaboration with the Department of Labor's Work First New Jersey initiative.
For further information contact: (201) 451-8888 ext. 202.
Customer Service Training (CST)
The Urban League's Pre-Occupational program prepares participants for the ever expanding customer service industry. Urban League's Customer Service component provides hands-on computer-based learning that teaches basic office skills augmented with training in the fine art of customer communication skills in global call centers.
Shortcomings in basic literacy will be addressed with exercises to improve those skill areas and prepare participants to succeed in occupational training at business schools, technical training programs, and other advanced training. Support, counseling, mentoring and referrals to additional services will be available to all participants.
Child Care Provider Training (CCP)
Child Care Provider Training is offered to County Welfare Agency (CWA) and Department of Labor (DOL) participants eligible to receive training at the ULOHC Training Center to obtain employment in Day Care Centers. A high school diploma or GED is required. The program mandates a commitment of 35 hours per week of which 20 hours is spent in licensed Day Care Centers or with registered Family Day Care Providers. These components enables the participants to receive experience, hands-on training and mentoring for 4 weeks.
Child Development Associate (CDA) Training Program
The Child Development Associate (CDA) training program is a 600 hour (18-20 weeks) activity designed to assist customers in obtaining a CDA credential. The CDA National Credentialing Program is a major effort initiated in 1971. The goal of the program is to enhance the quality of child care by defining, evaluating, and recognizing the competence of child care centers and family child care providers.
Each CDA candidate must pass a Basic Skills Proficiency Test before entering the program then complete the assessment component. ULOHC staff guides the participant through the five components that make up the document. The five components are:
The Professional Resource File
The Parent Opinion Questionnaires
The CDA Assessment Observation Instrument
Early Childhood Studies Review
Oral Interview
Recruiting FOR C.D.A.(Child Development Associate) Classes!
TANF & GA clients and individuals collecting unemployment insurance — Don't miss your opportunity to start on your new career path!
Must have a high school diploma & 6th grade reading level or higher
Child care experience is helpful but not necessary
Must be committed to becoming a child care professional
Course lasts approximately 18-20 weeks and includes classroom as well as hands-on/field training.
Evening classes available
MORE INFORMATION:
Call 201.451.8888